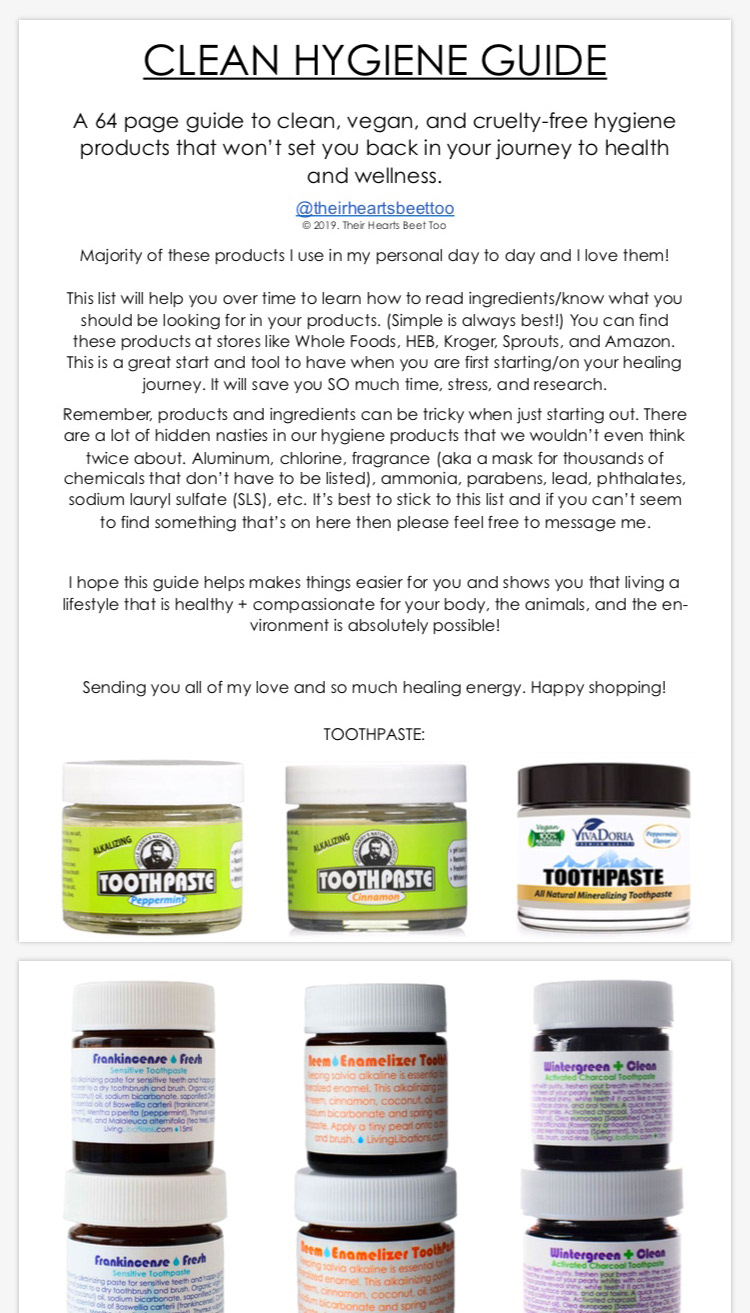 The whole point of me creating this guide is to make this process EASIER for you all. I know how overwhelming it can be to literally flip your life upside down because you have come to the realization that everything you use is actually so toxic and harmful to your health, the planet, and all of those sweet fur babes out there that get tested on. Having to start from square one, again. I take ALL of the work out of that process for you. No nightly researching sessions that take hours to find one decent product. No wondering if something is vegan, cruelty-free, or clean.. I've done the footwork!
What this guide covers:
Toothpaste, Mouthwash, Floss, Tongue Scrapers, Whitening Tools, Toothbrushes, Contact Solution, Eye Drops, Shampoo/Conditioner, Dry Shampoo, Hairspray, Hair Dye, Hair Gel, Hair Mousse/Volume Products, Hair Texturizers, Heat Protectant Serums/Frizz Serums, Razors, Shave Gels + Creams + Tools, Nail Polish + Remover + Nail Care, Lotion, Skin Care: Cleansers, Creams, Serums, Spot Treatments, Sprays, Tonics, Masks, Scrubs, Body Wash, Soap, Deodorant, Makeup Wipes + Removers, Non Chlorine Organic Cotton Balls/Cutips, Baby Powder, Non Chlorine Toilet Paper, Bathroom Wipes, Neosporin Alternatives, Vaseline Alternatives, Band aids, Hand Sanitizer, Bug Spray, Sunscreen, Eyelash Serum, Waxing Products, Tampons/Pads/Cups, Condoms/Lube/Butters, Perfume/Cologne. 
This is THE guide- for everyone! 
I hope this guide (64 FULL pages) is exactly what you've been searching for and that it creates EXCITEMENT about diving into this new way of living. Sending you love. Xo
**INSTRUCTIONS TO DOWNLOAD/SAVE-

PLEASE READ

BEFORE PURCHASING**: 
- You will receive an email with your download link after purchasing.
- You will then be taken to the download page/PDF. 
- Please make sure you save/email the actual PDF (not the link) to your email so that you can have it saved to look back on for future use.
Also please take into consideration that companies are able to change the ingredients in their products at any point in time so just always be aware of what you're purchasing. All of the products are clean in this guide as of June 2019.
If you have any troubles or concerns, please don't hesitate to reach out!