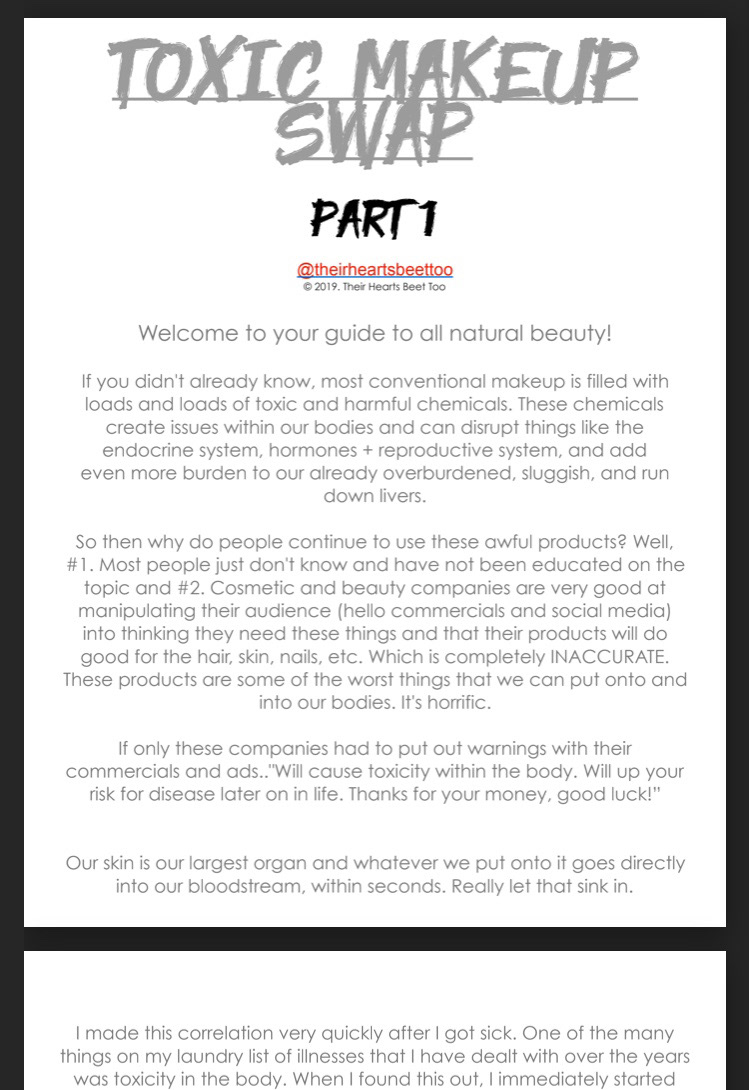 This is your easy guide to switching from chemical filled makeup to an all natural non-toxic beauty routine. You will receive all of the brands in the non-toxic beauty realm, 70+ Vegan/Cruelty-Free/All Natural products + pictures, links, discount codes, full ingredient lists, personal reviews, etc. No stress, no hassle, no researching. Ever
ything r
ight at your fingertips! This guide is 1 of 2 parts. Be on the lookout for Part 2 that will be coming out soon! Both are jam packed with need to know info/products to create a bangin' makeup look.
Part 1 includes

:
Foundations (powders, liquids, sticks, drops, creams, etc.), Concealers (wands, powders, compacts, creams), Setting Powders, Bronzer + Contour (pressed, loose), Blush (creams, pressed, loose), Eyebrow Pencils (retractables with spoolies, creams, powders, pencils) + Gel. (Over 70 products/options.)
Part 2 will include

:
Highlighters, Eyeshadow, Liquid Eyeliners + Pencils, Mascara, Lashes, Setting Spray, Lip Liner, Liquid Lipsticks, Lipsticks, Lipgloss, Chapstick + Lip Balm, and Makeup Brushes. 
**INSTRUCTIONS TO DOWNLOAD/SAVE-

PLEASE READ

BEFORE PURCHASING**: 
- You will receive an email with your download link after purchasing.
- You will then be taken to the download page/PDF. 
- Please make sure you save/email the actual PDF (not the link) to your email so that you can have it saved to look back on for future use.
Also please take into consideration that companies are able to change the ingredients in their products at any point in time so just always be aware of what you're purchasing. All of the products are clean in this guide as of March 2019.
If you have any troubles or concerns, please don't hesitate to reach out!